The first major item on our Publicity To Do List (the completion of our display at Gosford) has now been successfully ticked off!
The Committee's next focus areas will include designing the registration form, the compilation of a marketing plan to promote the Convention to a wide audience both throughout Australia and overseas, and the handover ceremony in Canberra at the next National Convention. At the end of next year's National we'll need to stage a short presentation that introduces our theme and our committee. It will no doubt be a brief but eye-catching musical number emphasising our Cabaret theme.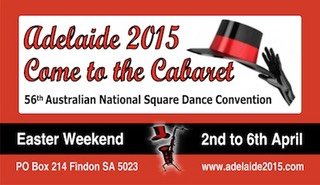 Did you see our stylish fridge magnets that were handed out at Gosford? If you were there we hope you picked one up. If you haven't seen them, this is what they look like.
Our marketing plan will include advertising in various Square Dancing magazines as well as asking other Square Dancing websites to link to our own site, and sending flyers to organisations and clubs. If you have any personal contacts overseas, such as callers and cuers, who you think could help advertise our event please let one of our committee know. Overseas advertising will be starting shortly in order to give dancers from further afield as much time as possible to organise their travel, accommodation and other activities.
A meeting was held on June 22nd to progress these topics, start planning decorations, lighting and staging and also compare notes on what we observed at the Gosford National. There's plenty to do but it's going to be a lot of fun!