Now that the excitement of this year's National Square Dance Convention in Gosford is fast becoming a very warm memory to those who attended, a certain sense of urgency is building here in Adelaide - only one more Australian National Convention to go before it's Adelaide's turn!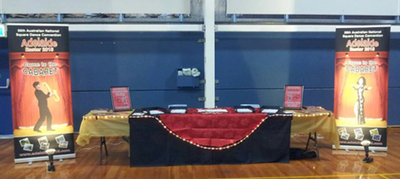 Our Gosford display table, resplendent in red and black with a dancing rope light and full-height flood-lit banners and tabletop posters, was very eye-catching across the big hall. It really highlighted our red and black Cabaret theme and attracted many admiring comments. People availed themselves of Adelaide tourism pamphlets and accommodation handouts, and helped themselves to fridge magnets, inviting them to "Come to the Cabaret".
At Gosford on the Thursday our first report was given to the National Conventions Board and was well received. Some suggestions were made regarding slight program adjustments which we will adopt, and they were impressed with the progress we had made to date.  A summary report was also given to the general dancer meeting on the Sunday morning. 
It's now official that our Adelaide 2015 Convention venue will be The Gardens Recreation Centre, at the corner of Kings and Martins Roads in Parafield Gardens. It has three halls, all suitable for dancing, and all amenities including meeting rooms and a creche are located in the one complex.
Our website, www.adelaide2015.com, is now up and running so that you can keep up to date with what's been happening by visiting it regularly.